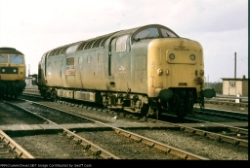 Welcome to the RRPictureArchives.NET contributor site of Geoff Cook.



Welcome to my gallery on RR Picture Archives!

I was born in Stevenage, Herts England back in 1960, and moved Stateside in 1990.

I've been a 'train spotter' for more years than I care to admit, I lived about a mile from the East Coast Main Line (ECML), and always enjoyed those nights when the London - Edinburgh sleeper services used to notch up the hill from Knebworth to Hitchin! American railfans.. One of the sweetest sounds is 3300hp of Napier Deltic power lifting a heavy train up a seven mile grade!

Even better - when the new railway station opened in 1973, the sleeper used to stop at Stevenage, which always resulted in a noisy start!

I'll admit at first I was never a big fan of BR Intercity 125s, which replaced Deltics on top flight ECML services, but in 1984 I was intstrumental in getting power car E43162 named Borough of Stevenage, after my home town!

A long time member (including committee duties!) of the Stevenage Locomotive Society!

And on to Stateside! I lived in Coventry Ct, about 200 yards from the New England Central.. Always loved the lonesome wail of the trains passing the grade crossings north of Willimantic! Moving to RI, a few more trains here, with Amtrak, MBTA, and Providence and Worcester action!

Please enjoy my photos!

Geoff



You may browse my collection of pictures via the menu located on the left hand side of the page. I hope you enjoy the collection and thanks for stopping by!